This was one of the earliest buildings in the area of Llandudno north of the rail station. Its windows faced towards Snowdonia, exploiting the view over the lowland which was obscured by later buildings. The hotel was named after one of its earliest owners, possibly its founder. It retained the name when others adopted new names, often to suggest grandeur and links with aristocracy and empire.
Note the hotel's name in the ornate ironwork on the porch. Even the apostrophe was wrought and attached to the framework. Originally the title here was Evans's Hotel but the second "s" has been removed, leaving the gap you can see in the photo.
During the Second World War the Evans Hotel was earmarked for use by the security service, MI5, to hide some of Britain's top double agents, part of the country's biggest wartime intelligence network. (Double agents pretended to spy for one country while in fact spying for the enemy.) It was feared that if the Nazis invaded Britain, these double agents would pose a security risk by passing information to the enemy if they were captured. After the Nazis had invaded the Low Countries and France in 1940, it was highly probable that Britain would be next.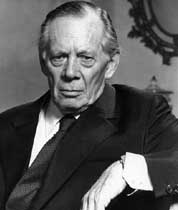 Cyril Bertram MillsAn operation codenamed "Mr Mills' Circus" was named after the senior MI5 officer in charge, Cyril Bertram Mills (pictured), whose family ran the Bertram Mills Circus. It involved MI5's North Wales agent, Captain Finney, finding accommodation for the double agents, their families and armed minders. He made arrangements to house them at the Evans, Risboro and White Heather Hotels in Llandudno, the Eagles Hotel in Llanrwst and the Swallow Falls Hotel in Betws-y-Coed. Within a few weeks, Captain Finney reported to his superiors in London that he'd "completed arrangements of the animals, their young, and their keepers ".
By 1943 the plans had been scrapped, as the course of the Second World War had changed and the possibility of invasion receded.
With thanks to Adrian Hughes, of the Home Front museum, Llandudno, and John Lawson-Reay, of the Llandudno & Colwyn Bay History Society

Source: History Points